DOWNLOAD Michaela Konrad PORTFOLIO English
DOWNLOAD Michaela Konrad DOWNLOAD Michaela Konrad PORTFOLIO German
MICHAELA KONRAD, born in Graz (AT), lives and works in Vienna (AT) and in
Santa Cruz de Tenerife (ES). She received her artistic education at the Centro Municipal
de Arte Gráfico in Santa Cruz de Tenerife (ES) and during one year at the University of
Applied Arts in Vienna (AT).
Michaela Konrad's s work spreads across a wide spectrum of media – her favorite
ones are painting, offset-lithography and multimedia installations. The idea is the
precondition and the hand-drawing is the or base of her artistic creation.
Painting.
She paints in the tradition of flat painting, which means that she avoids the artistic
gesture. She tries to reduce the line, the brushstroke and the form to the very
substance. The act of painting is a kind of meditation for her. After developing the
ideas and preparing the preliminary drawings, the painting process usually becomes
a concentrated craft-work.
Analog Printmaking.
Since 2003 she produces her printmaking projects in the Graphic Workshop in Santa
Cruz de Tenerife (ES). There she developed together with the printing masters Manuel
Arias Mata und Fabián Castilla Labrador her personal style in the technique of handprinted Offset-Lithography.
Digital Installation.
Her extensive installations which were created in cooperation with the Romanian
artists Eugen Neacsu, Octavian Horvath and Daniel Dorobantu were performed during
the Ars Electronica Festival 2011 and in the Deep Space of the Ars Electronica Center
Find out more about my different art projects on: spacelove.at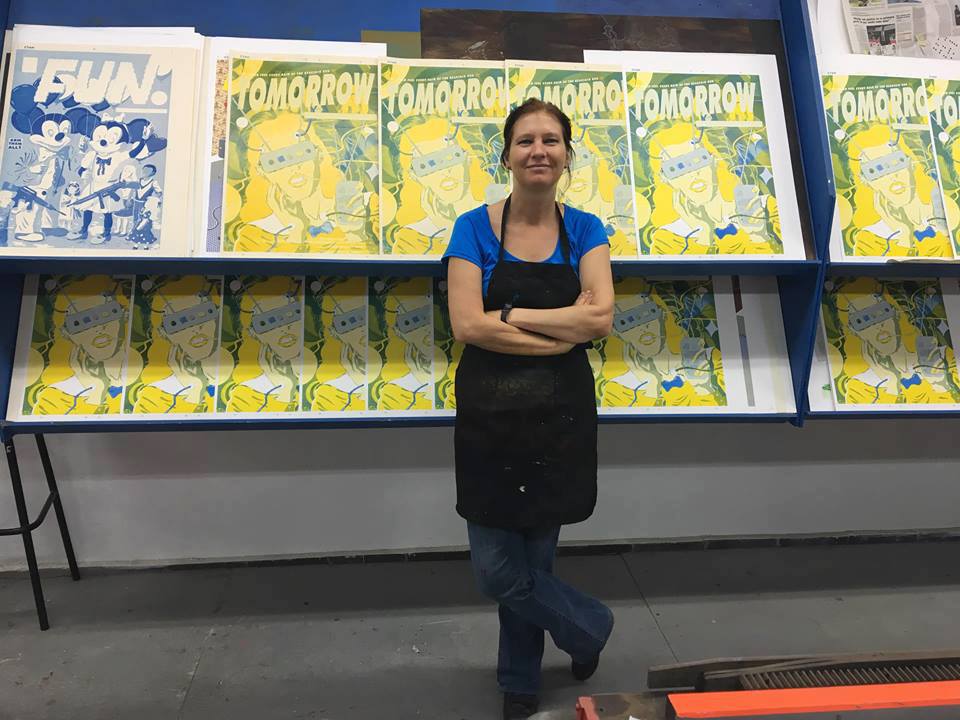 For those who want to know how we make Offset Lithographies in the Escuela municipal de Arte Grafico, here is a making-of video. I have been doing my printworking for about 20 years in the city center of Santa Cruz de Tenerife (Canary Islands). Since 2017 I make my printing in cooperation with Fabian Castilla Labrador.